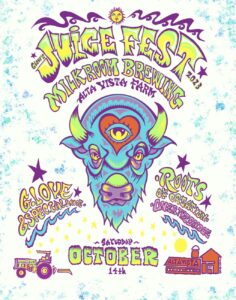 Over The Bridge, Roots of Creation, G. Love & Special Sauce, Badfish
October 14, 2023
Rutland, MA
Details
Time
: 11AM-9PM
Venue
: G. Love's JUICEFEST 2023
Address
: 80 Hillside Rd
State
: MA
Zip
: 01543
Phone
: +15088866616
Contact Website
:
https://milkroombrewing.com/
JUICE FEST 2023!!
We know this is the event you have been waiting for all year and we are stoked for this year's line up!!
Over the Bridge is an up and coming MA based reggae band that has been gaining traction and touring all around New England. They start the day and set the chill vibe for the event!
Roots of Creation had so much fun last year they wanted to come back for their encore performance at Juice Fest this year. We are psyched they are joining us again for another killer set!
Headlining the event is our friend, G.Love and he's bringing The Special Sauce with him this time around! Always a good time when G is in the house and he blows the barn doors wide open every time he plays here!
A fourth band will be going us this year but we have to keep them a secret for just a little while longer. You'll know the tunes. You'll love the vibe. We are stoked about this addition for sure! Trust us!
Booty & The Jett, a Rutland based duo and friends of Milk Room, will be jamming on the second stage during all set breaks!
Food trucks will be onsite to provide lunch and dinner!
A vendor market organized by Wachu-Makin' will be onsite in our own Milk Room Shakedown Street!
VIP tables of 8 with table service are available and line the stage pasture for premium seats.
General Admission tickets available and there will be non-VIP tables throughout the venue available on a first some first serve basis.
You don't want to miss Juice Fest 2023! Come listen to a day full of music where the bison roam!
Tickets are available on eventbrite! Search for Juicefest 2023.