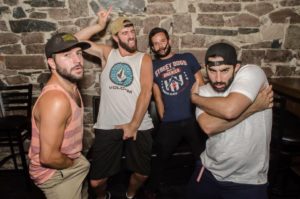 About 4 months ago, in the midst of the scramble to complete their debut EP "Something In The Water" Over The Bridge was entered into a poll by The Middle East & Secret Sessions Boston asking the city what local band they would like to see open for Giant Panda Guerrilla Dub Squad on 4/20 during their Boston stop on the Where There's Smoke Tour. With over 800+ votes the fellas won themselves the opportunity, that left a lasting impact on the venue.
Fast forward to August 5th following the release of the EP on July 16th and it seems there is no stopping the boys from the island of Gloucester, MA in their quest to spread love, music, and bring a good time to every city they visit. They've played shows spanning across their home state of Massachusetts all summer long, graced the airwaves with a live performance on WEMF Radio's The Underbelly, had tunes played on WAAF, Evolvement Radio, and even an exclusive single release with the well known Boston social blog Know Your Scene.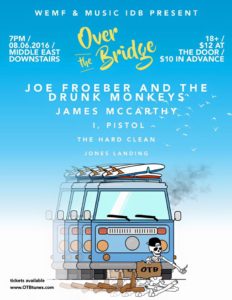 Presented by WEMF Radio & Music IDB tomorrow night, Saturday August 6th, at The Middle East Downstairs, Over The Bridge HEADLINES that same club they performed as openers just a few short months ago and it is shaping up to be one for the books. The rockin' line up of Boston area bands includes: Joe Froeber & The Drunken Monkeys, James McCarthy, I, Pistol,  The Hard Clean, and Jones Landing.
Tickets are on sale now and are $10 in advanced and $12 at the door. Check out the Facebook event page or purchase your tickets by following the links below!
Facebook Event
Purchase Tickets