OTB FALL 16′ RECAP
After an impressive summer of shows and the release of their debut EP "Something In The Water" the boys of Over The Bridge came into the Fall season guns blazing and finished out 2016 with a bang. Smashing 11 shows, in 9 different cities, across three states in New England ending with what may have been the wildest New Year's Eve Party Minglewood Tavern has ever seen in their hometown of Gloucester, Massachusetts.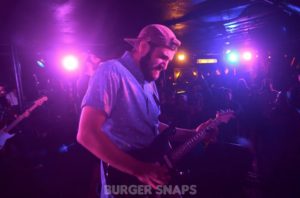 Following their first headlining spot at The Middle East Downstairs in August, the boys traveled up to Lebanon, NH to perform the "Shish Kebab Shred" at Rusty Berrings Skatepark hosted by DEX Skateboards.
October proved to busy for the team with 6 out of the 11 Fall shows falling within the same month. Starting with a performance at Salem State University's Homecoming and on to a Charity Poker Run – Cruising For CJ (East Bridgewater, MA) on 10/9, Opening for Passafire at The Middle East with The Elovators (formerly The Cornerstone) on 10/16, and a special live broadcast event from local spirit company Deacon Giles Distillery on 10/18.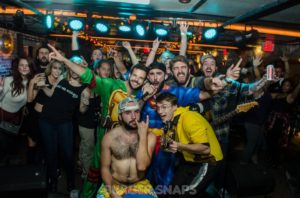 The final testaments to their dedication and hard work in 2016 came when the boys were asked to join The Way of Life Tour on select dates 10/28 and 10/30, hosted by The Hangover Pub alongside The Voice's Sammy James, and the legend Opie Ortiz (renowned Sublime tattoo artist and former member of Long Beach Dub Allstars), with comedian Paul Virzi traveling to Portland, ME and Salem, MA filming their pilot for reality television shot and directed by Johnny Hickey (Oxymorons, Habit) and Keith Shaffer of Moodswing Moving Pictures.
The months of November and December were painted green. Over The Bridge was asked to be a part of OTAV's "Cultivate Compassion" event supporting MMJ with Roots of Creation on 11/12 (Groveland, MA) then returned to New Hampshire to perform The NH Hempfest & Freedom Rally Fundraiser at Shaking It Trading Post (Hooksett, NH), and finally 12/4 at The New England Grassroots Institute Holiday Celebration & Fundraiser (Randolph, MA).
Ending the year in true OTB fashion the boys returned to their hometown of Gloucester, MA for the first time since September for an epic New Years Eve Party at local music hotspot Minglewood Tavern.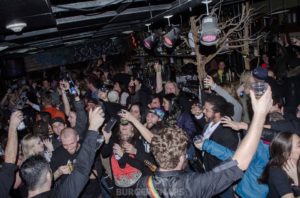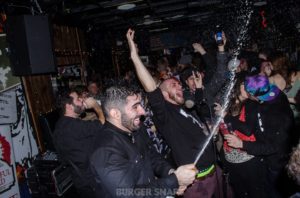 With 2016 now in the rearview, the boys show no sign of slowing moving full steam ahead in 2017 with whispers of a new album in the works, and the group's first official East Coast Tour set to kick off this summer.
To keep up with the band and stay up to date on the latest news and show announcements follow them on your favorite social media pages @OTBTunes !
(Photo's by: Ryan Burgess of Burger Snaps)